Are you losing Internet or Data connectivity during a power outage?
Power outages have become common in risky areas where hurricanes are frequent: local power grids are still very fragile even when customers have backup generators.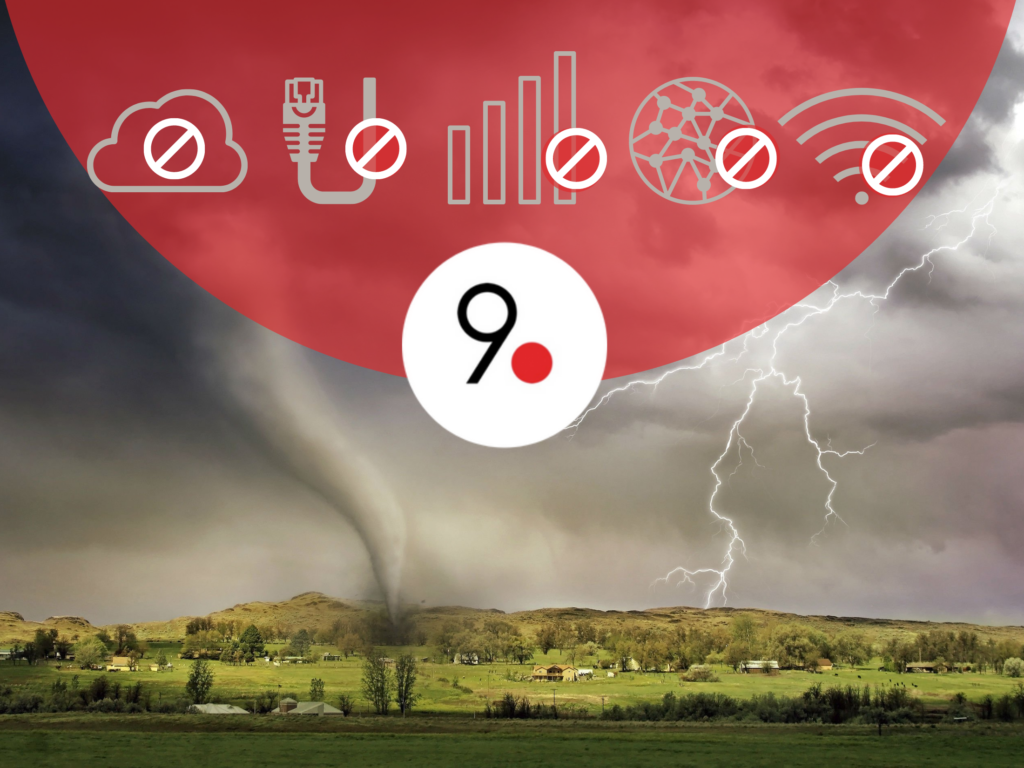 Power outages due to thunderstorms are a common phenomenon in areas affected by storms and hurricanes.
According to NASA's Optical Satellite Survey, the regions most affected by lightning are tropical and subtropical regions.
There is also evidence that much more lightning occurs on land than in the seas.
This can cause loss of connectivity to the Internet and data: local power grids are still very fragile, even when backup generators are available.
A system is needed to ensure reliable operation in all situations, with automatic recovery restart and redundant input power protected from surges.
---
COMMONS PROBLEMS
High currents subject the injectors to strong tensions which cause frequent (often destructive) failures
Powered cables are the ideal vehicle for transporting induced currents
A short-circuit device compromises the functioning of the system
Devices that can be powered via PoE require increasing current.
---
OUR SOLUTIONS: A FOCUS ON GIGASYNC AND NCORE
Our solutions, with qualified and certified design, make it possible to manage the control of POE systems for medium and large companies in a simplified and smart way, through the installation of new technology equipment able to avoid exposure to all the problems due to variables of electricity flows.
Thanks to the web interface 9dot technologies can be managed remotely in the event of overload, failure or other forms of malfunction. Our products have been designed to avoid many of these risks and to solve the mentioned problems.
GIGASYNC
GigaSync is a GPS synchronizing system designed to provide a power source to standard Power Over Ethernet devices or directly by terminals. It consists of a Base Unit which can host up to three Cartridge expansions: it grants remote control and user interface for the whole system.
GigaSync is designed to power every kind of devices by Power over Ethernet standard or directly by terminal blocks. The Base Unit can handle up to 3 different Cartridges.
Moreover, its dual processor design guarantees the uninterrupted operation of the unit in all the situations, including the restart after the firmware upgrade; great optimization of the product has made it possible to obtain zero input at the output voltage drop and self-consumption reduction.
On the other hands, the 9dot GigaSync can be used to dramatically reduce cabinet space requirements in deployments that support a variety of POE devices. With legacy power equipment many devices require their own individual power supplies. Other legacy power equipment only supports a specific vendor. This is not sustainable from a power, space, and management perspective.
The GigaSync solves this problem by offering a single POE injector solution for all kinds of devices. Since the GigaSync is extremely flexible and modular by nature, it can be used to support both small and large deployments with ease.
In a specific example, the GigaSync avoid a costly cabinet upgrade by reducing the rack space requirements of the site significantly. This reduced overall capital spending, avoided a lengthy night cutover to a new cabinet, and allowed us to harvest legacy equipment.
NCORE
NCore belongs to the Active Power Stations family, a new generation of power stations dedicated to telecommunications operators.
It can accommodate up to 3 800W AC or DC Input modules each for a total of 2400W, a Battery Charger module and 5 OUT modules with 4 ports each manageable individually. The management system, simple and immediate, allows the remote control of commands and monitoring.
The new Active power stations solutions are modular and compact, suitable for 19 ″ -1U rack mounting, created and designed to allow intelligent management of the power supply of equipment for Telecommunication.
Its system simultaneously operates in Reactive and Proactive mode ensuring efficiency, protection and reliability; moreover, it has not always-online but super-fast switch on battery, preventing auto discharge and maximizing battery life.
9dot power supplies bring a new level of performance, functionality, and battery management to wireless communication applications.